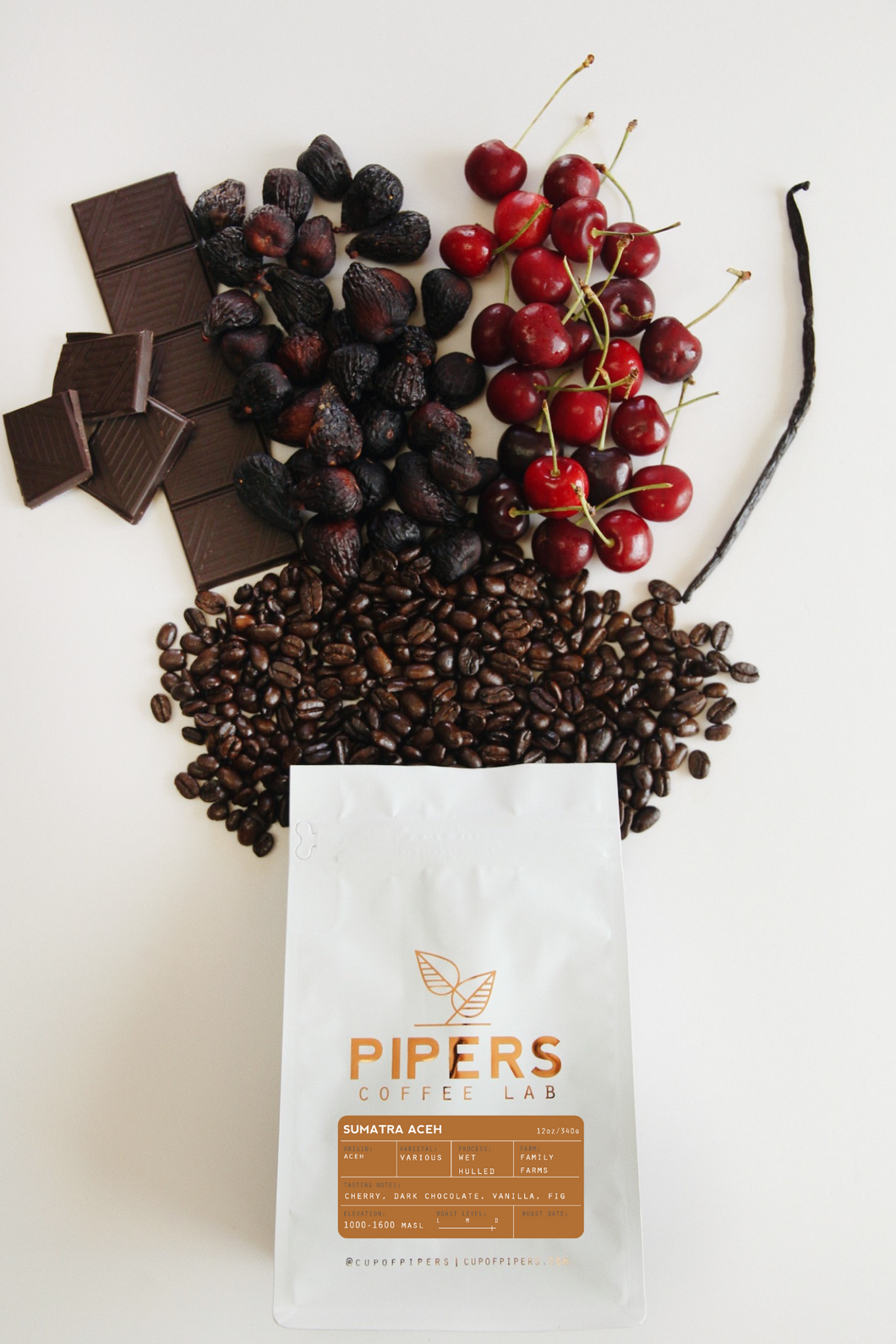 Sumatra Aceh
Regular price $ 18.00 Sale
Growing up in the South we are often taught from a young age that good coffee should be strong enough to chew and put hair on your chest. In the world of third wave coffee, this way of roasting coffee has been often frowned upon. Nevertheless, this beautiful coffee from the Northern region of Sumatra in Indonesia has been roasted to a dark level in order to release flavors of dark chocolate, vanilla, fig and cherry. The average farm is one hectare, 80% of producers within northern Sumatra are women, and 95% of producers are smallholders. The intention behind this coffee is to offer people a dark roast that has been grown, processed, and roasted with thought and care.
Sumatran coffees have long been distinct for their earthy, savory, somewhat vegetal or herbaceous characteristics, in part contributed by the climate and the mix of varieties grown, but also due to a specific post-harvest processing style called Wet-Hulling, or locally known as Giling Basah, which imparts much of the unique qualities these coffees have. Those earthy, savory, and vegetal notes would be overbearing in a light roast, but when they've been caramelized through a longer and darker roast they take on a richer quality. When we taste this coffee now as a traditional dark roast it's savory and vegetal characteristics are deep, interesting, and sweet.
The best brewing method for this coffee would be your regular run-of-the-mill drip coffeemaker. Mr. Coffee's are welcome!
The best way to enjoy this coffee is with milk/cream and sugar. The fat of the milk or cream will hold up well with the oils in the coffee, and the sugar will pair well with the smokiness of this coffee.
Tasting Notes: Dark Chocolate, Vanilla, Cherry, Fig
Roast: Dark 
Origin
Sumatra 
Region
Aceh
Farm

Various farms (Harimau Tiger / Cafe Imports Signature Offering)

  
Variety

Ateng, Bor Bor, Catimor, Timor

Altitude
1300 - 1650 msl
Proc. Method

Wet Hulled

Packaged in a 12oz bag.